PrimeXBT Review Trading Platform — Most Complete Overview of the Crypto Exchange
Choosing a cryptocurrency trading platform is a responsible choice because the selection of tools and assets on the exchange can heavily affect your potential earnings. Today, we decided to review one of the leading crypto exchanges that offer margin and leverage trading – PrimeXBT.
The history of PrimeXBT company establishment dates back to 2018. It now positions itself as a top crypto exchange in Europe. Although the company has a global reach of around 150 countries, it cannot be positioned as the world's best digital exchange due to its unavailability in such key jurisdictions as the United States of America, Japan, and Israel. So, if you are to find out if is PrimeXBT available in the US, the answer is no.
The PrimeXBT company operates three offices, two of which are registered in Seychelles and in St.Vincent & The Grenadines. It's also reported that the PrimeXBT team consists of 150 employees. The company itself has more than 12 liquidity providers.
As for the trading infrastructure of the company, you need to know that the PrimeXBT trading engine runs on Amazon AWS servers. Currently, servers that deal with trades on PrimeXBT in particular are located in London and Frankfurt.
Once you've learned the basic information about the company, let's get deeper into trading itself. In this PrimeXBT review, we tried to list all the important aspects you need to be aware of.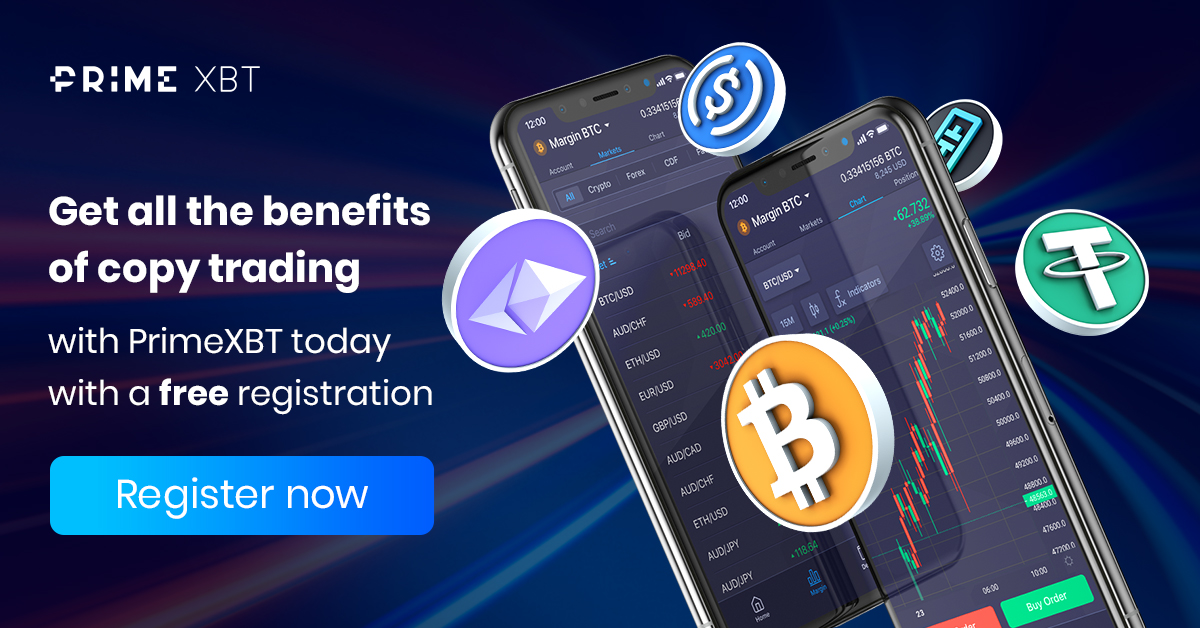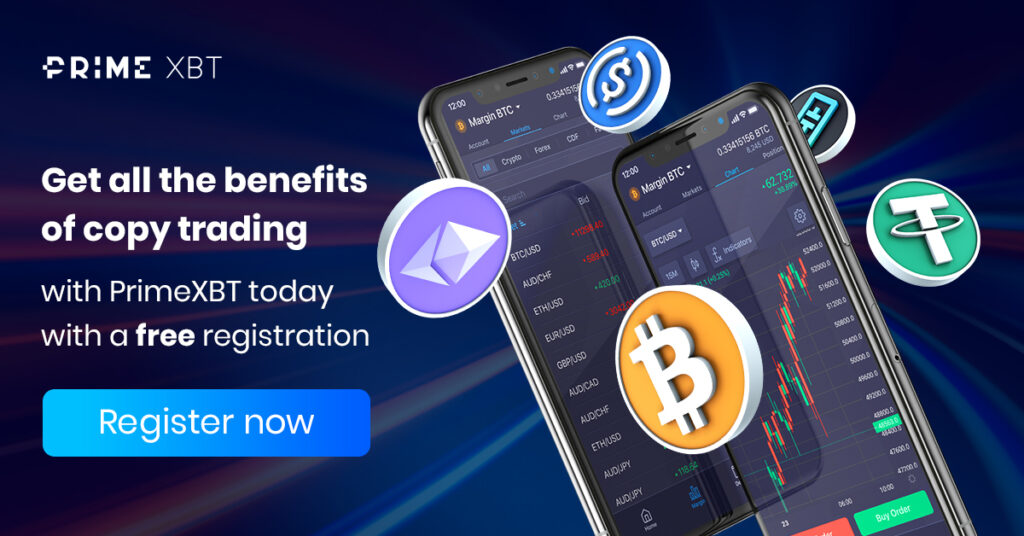 Review PrimeXBT Registration: Is it Difficult to Sign Up?
When reading multiple PrimeXBT reviews we noticed that many real clients praise the platform for the smooth registration process that is executed quickly and without involving much of your sensitive data. This process starts once you click the Register button on the official website of the company.
At the beginning, you will be redirected to the following window: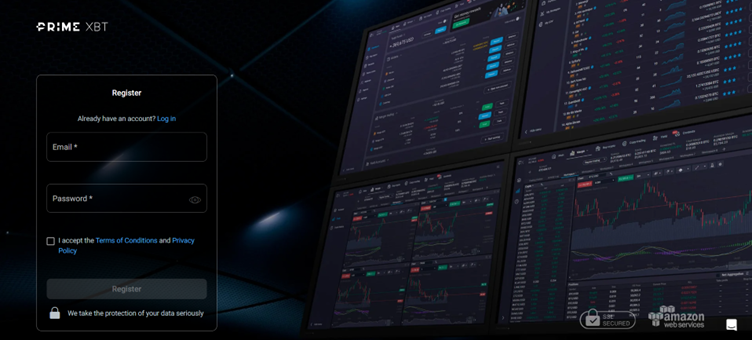 As you can see, everything you need at this stage is the email, to which you will link your trading account, and a strong password, which will secure the entrance to this account. Make sure to get familiar with 21 pages of the Terms and Conditions and 11 pages of the Privacy Policy. If you accept everything, just click "I agree" but if you don't understand some conditions, look for clarification in the Help Center of the website.
Once you submit all these data and click the "Register" button, you immediately receive a verification letter in your email that will contain a special ID link. Once you proceed by this link, you will perform an automatic PrimeXBT login.
As you might have noticed, PrimeXBT, unlike many other exchanges, doesn't require you to verify your account using private data from official documents. This protects you from the leakage of sensitive information, even in case your trading account is hacked by an unauthorized entrance.
On the other hand, some traders might consider the lack of ID verification a poor protective measure. However, you can switch on the feature of Google Authenticator and secure your password with 2-factor authentication. This action is optional for all registered users.
PrimeXBT Deposit Bonus
In order to activate your PrimeXBT trading account and get the possibility to use its tools and assets, you need to replenish your balance with a minimum deposit. It can process only in digital currency and shouldn't be lower than 0.001 BTC or equivalent in any other accepted cryptocurrency.
The processing of the starting deposit is also a way to claim your first bonus as a PrimeXBT client and receive some extra digital coins to your balance. Usually, PrimeXBT allows the activation of bonuses via special promotional codes.
Once you are registered on the trading platform, you will see a dashboard where all your trading activities are displayed. You need to proceed to the Main section. Once you click it, the side menu will appear. There, you will see the Promo Codes button. Click it, choose the crypto to deposit, enter the code, and activate the bonus. It looks like this:

Promo codes that activate PrimeXBT deposit bonuses are available on affiliate resources of the platform. Find them, register a PrimeXBT trading account right now, and claim your first crypto bonus.
PrimeXBT Review Order Types: Which Type of Execution you Can Choose
If you decide to start working with an online trading platform, before signing up, you need to examine some of its key technical features, such as types of execution.
This characteristic is very important in online trading for all participants regardless of their background experience and technical knowledge. This term refers to the way a trading provider handles your trades. Some execution types might be more financially beneficial than others, and it's important to discover whether a trading platform offers them. Here are just a few reasons why execution is important:
Faster execution can close deals in a profitable way.

Some venues have better prices for traders.

Execution impacts the quality of traders' transactions.

Certain types of execution can help manage trading risks, which is especially relevant for the volatile cryptocurrency market.
As for PrimeXBT, we can say that the types of execution available on this platform are acceptable for many clients. It enables basic Market execution that sells/buys for the best available prices, as well as Limit, Stop Market, and Protection orders that are used in trading risk management To cut long story short, they enable traders to set prices at which they are willing to sell or buy.
PrimeXBT Deposits and Withdrawals
As already mentioned before, PrimeXBT accepts account deposits only in cryptocurrencies, which might be considered a disadvantage compared to other popular exchanges. Nevertheless, PrimeXBT reviews say that the procedure isn't complicated and takes just several minutes to be processed. Let's see how you can deal with it and what means you can use if you don't have a crypto wallet yet or cannot replenish your account with some bitcoins.
PrimeXBT Deposits Review
To make your first deposit, you can use the above-mentioned method that requires you to enter a special promo code. But if you don't have a promo code, you make just a regular deposit by going to your Account and clicking the Deposit button on the side menu: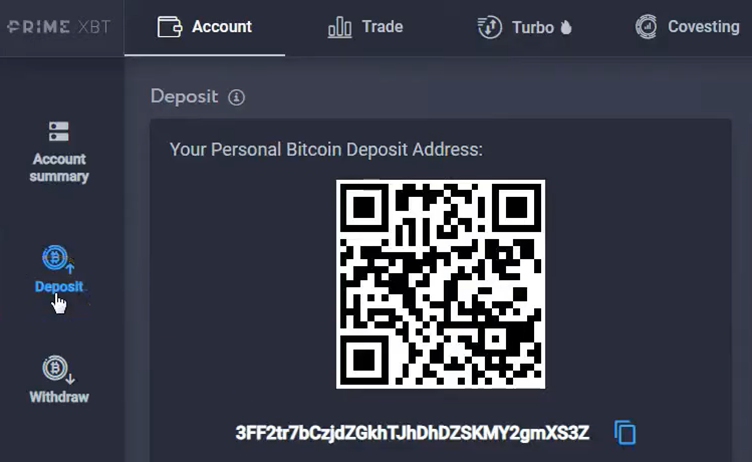 After doing this, you will see a special QR code or a Bitcoin wallet address for your trading account. You can just copy this address and process a simple transaction from your regular cryptocurrency wallet where you have some bitcoins. This deposit method is called Direct Crypto Transactions. If you don't have bitcoins, direct crypto transactions can be also executed in ETH, USDT (erc20), or USDC (erc20). The only requirement is that the deposit amount isn't lower than 0.001 BTC.
If you don't have a crypto holding or crypto wallet but want to trade on PrimeXBT you can buy bitcoins via such partnership services as Coinify, Xanpool, Paxful.io using fiat money on your debit or credit card.
On the deposit section, you will see the Alternative deposits option, where you will have the possibility to calculate how much of your US dollars you need to buy a certain amount of bitcoins.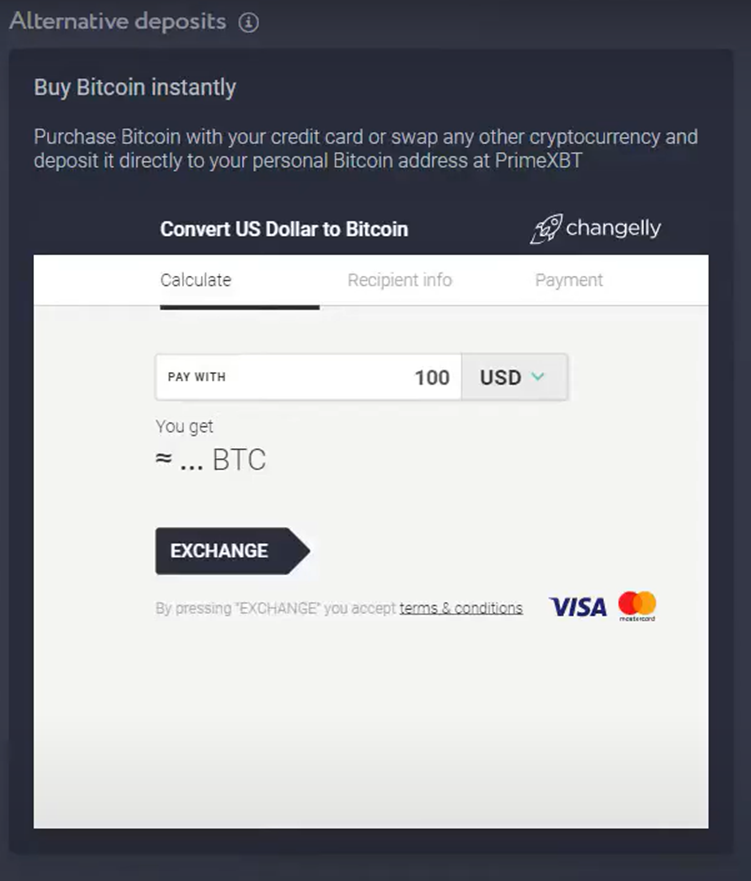 PrimeXBT Review Withdrawal: How to Get Your Earnings Paid Out
Once you make some earnings, you will be willing to withdraw them from your trading balance. On PrimeXBT, this process is quite straightforward, although it requires compliance with specific requirements.
To begin with, PrimeXBT claims that almost all funds are stored in cold wallets. On the one hand, this is a great security measure. But on the other hand, it's necessary to involve several specialists to perform a withdrawal from cold storage. That's why they work only during the time gap between 12 pm and 2 pm. This means that if you make an inquiry within this gap or later, you will need to wait several days to get your withdrawal processed.
According to PrimeXBT reviews, the only way to receive money on the same day is to send your request before 12:00 UTC.
One more thing to pay attention to is also about the security of withdrawal – PrimeXBT executes such payments only to whitelisted accounts. This measure ensures that your money won't be sent to a fraudulent account even if your trading profile is hacked.
PrimeXBT doesn't charge fees for deposits, whilst withdrawals are processed with a 0.0005 BTC.
PrimeXBT Leverage Review
Leverage is a very important feature for professional traders and investors. The reason why PrimeXBT seems quite appealing to them is that this is a crypto trading platform offering leverage of 1:5 for some crypto pairs. What does it mean for traders?
In simple words, this condition increased your buying or selling power by 5 times, meaning that you have $20 on your balance, and you can operate trades worth $100. With such buying power, you can open bigger positions and eventually make bigger profits. At the same time, high leverage increases your potential losses.
If you want to learn more about how the PrimeXBT leverage works, you should learn this information on the official website or make a request to customer support. Here are just the key facts.
One more advantage of the PrimeXBT leverage is that you can free up your capital for other investments. Let's imagine you have $1,000 in your account. You don't necessarily need to invest this entire amount into one product to gain a good return. Instead, you can allocate half of this sum to BTC/USD and leverage it by 5x to gain the possibility to operate $2,500. The rest of your balance can be allocated to other products.
If you don't understand how leverage works, PrimeXBT has enough tools and materials to get it. For example, you can use a customizable leverage calculator to have a better understanding of the number of funds you will have in operation.
Nevertheless, bear in mind that the risk of losses increases alongside the potential of gains. That's why PrimeXBT might be not the best option for those users who prefer to take small but regular profits.
PrimeXBT Margin Trading and Leverage Review
| | | |
| --- | --- | --- |
| Asset | Min. Order Size | Max Leverage |
| ADA/USD | 0.01 ADA | 1:20 |
| BNB/USD | 0.01 BNB | 1:10 |
| BTC/USD | 0.001 BTC | 1:200 |
| DOGE/USD | 0.01 DOGE | 1:20 |
| ETH/USD | 0.01 ETH | 1:200 |
| ETH/BTC | 0.01 ETH | 1:200 |
| LTC/USD | 0.01 LTC | 1:50 |
| SOL/USD | 0.01 SOL | 1:20 |
| XRP/BTC | 0.01 XRP | 1:20 |
| SHIB/USD | 100000 SHIB | 1:5 |
Review PrimeXBT Asset coverage
The biggest advantage of the PrimeXBT trading platform over other mainstream digital exchanges is that it provides exposure to instruments beyond the cryptocurrency market. Therefore, if you are unsure of your skill in this avenue, you still can register to speculate other assets. The PrimeXBT Asset coverage is as follows:
Cryptocurrencies. Use deep liquidity and robust technical tools to earn on price fluctuations of 41 cryptocurrencies paired to the US dollar;

– Commodities. These are very reliable assets to invest in through the crypto exchange because they are prone to the majority of impacts on the financial markets. That's why row materials are considered the best investments during currency inflation and crypto fluctuations periods. PrimeXBT displays 5 commodities: GOLD, SILVER, BRENT, CRUDE, NAT. GAS.

Indices. The number of stock indices on the PrimeXBT trading platform reaches 11 instruments, including the most popular ones such as NASDAQ, HK-HSI, and DOWJ.

Forex. Surprisingly, this is the biggest asset class represented on this cryptocurrency trading platform. Clients can speculate on the price movements of 51 currency pairs, both minors and majors are available.
PrimeXBT Fees Review
From PrimeXBT reviews and research on the trading platform, we found out that this exchange has quite a trader-oriented commission policy. It charges Trade fees and an additional commission called Overnight Financing.
While the Trade fees work the same way as on other exchanges, Overnight Financing is paid for only positions that haven't been closed by the night. Their amounts heavily depend on the traded assets.
See the table with the comparison of fees for different tradable products below.
| | | |
| --- | --- | --- |
| Asset | Market | Commission |
| BTC/USD | Crypto | 0.05% |
| ETH/USD | Crypto | 0.05% |
| EUR/GBP | Forex | 0.0001% |
| EUR/USD | Forex | 0.0001% |
| USD/JPY | Forex | 0.0001% |
| NASDAQ | Index | 0.0001% |
| EUR50 | Index | 0.0001% |
| CRUDE | Commodity | 0.0001% |
| NAT.GAS | Commodity | 0.0001% |
| GOLD | Commodity | 0.0001% |
Considering the peculiarities of PrimeXBT fees and comparing them to the average market commission, we dare say that they are lower. You should also consider that the 0.0005 BTC withdrawal fee is a standard Bitcoin transaction cost with no extra payments redirected to the trading platform.
PrimeXBT Covesting Review: Impressions from the Crypto Copy Trading Module
PrimeXBT differs from many standard crypto exchanges, not only because of the availability of more assets to trade. One more significant benefit for traders is the possibility to duplicate deals of other experienced traders through the copy trading module.
The copy trading module operated by PrimeXBT is called Covesting. This software solution allows sharing your strategies with those who are willing to copy them automatically. Many PrimeXBT traders find this module very helpful. So, let's take a quick overview of this tool.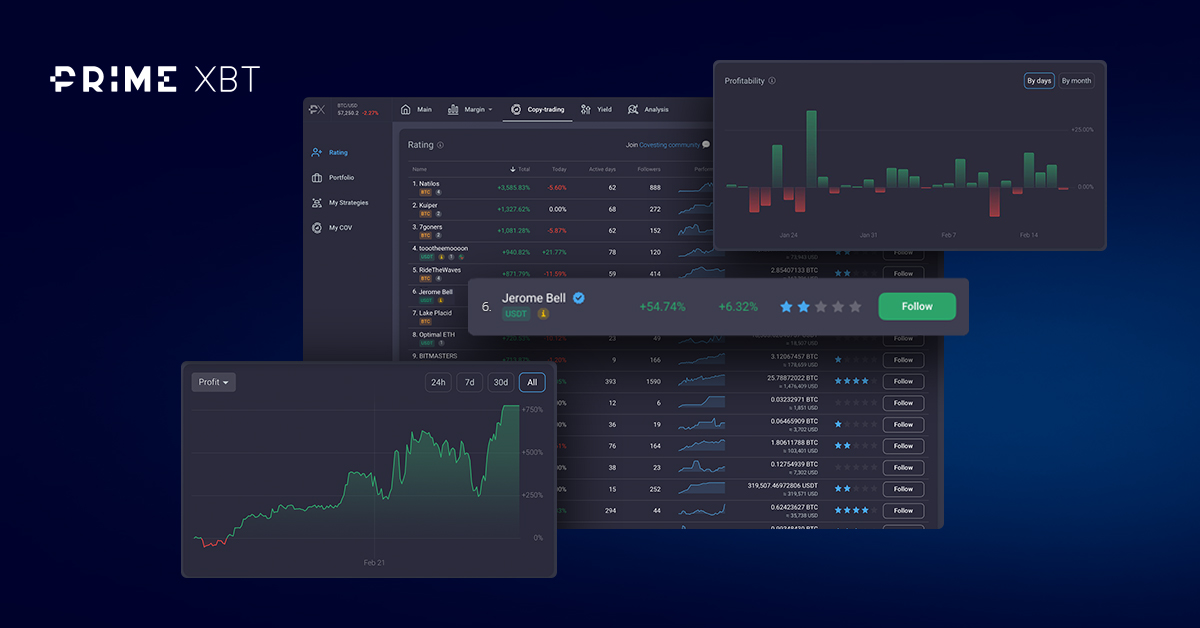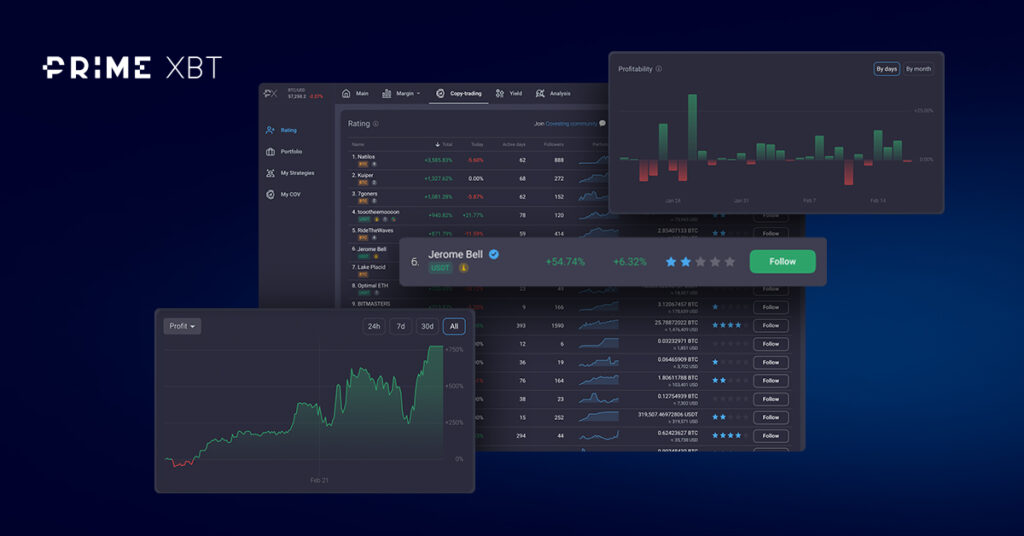 PrimeXBT copy trading review
The interface of the Covesting module is very convenient for traders because of the high degree of its customizability. Its dashboard is almost similar to the PrimeXBT one, which you see right after the PrimeXBT login.
Intuitive navigation is very important for beginning traders, and they are the most frequent clients of the copy trading module. To get to this software, a user needs to click the Covesting button in the header of the PrimeXBT dashboard. After this, a trader is redirected to the Covesting dashboard displaying information about the following traders, their strategies, their latest performances, assets, and more. It allows us to quickly monitor all the activities without the installation of the software.
Currently, the Covesting copy trading module lists over 400 active traders who work with the PrimeXBT trading platform. By setting up the parameters, you can filter them out in accordance with their latest performance statistics, the number of followers, traded assets, balance, and other features.
The reward provided by the Covesting module depends on the strategy, asset class, and performance. On average, signal providers receive a 20% commission from every profitable trade copied by their followers. Followers, at the same time, can get up to 70% of every profitable trade. The rest is a commission paid to the platform.
Note, that Covesting isn't a social trading platform. This means that trades are duplicated automatically once you link your account to a certain signal provider. On the one hand, it's less time-consuming. But on the other hand, traders cannot establish networks and share their insights to improve strategies.
Last but not least, Covesting users can buy COV utility tokens. As with any utility token, they can be staked on yield accounts, available on the copy trading module. The other function of this token is to serve as membership approval, meaning holders of different levels can claim specific rewards corresponding to the number of digital tokens they hold.
PrimeXBT Review App Mobile: How to Trade on the Go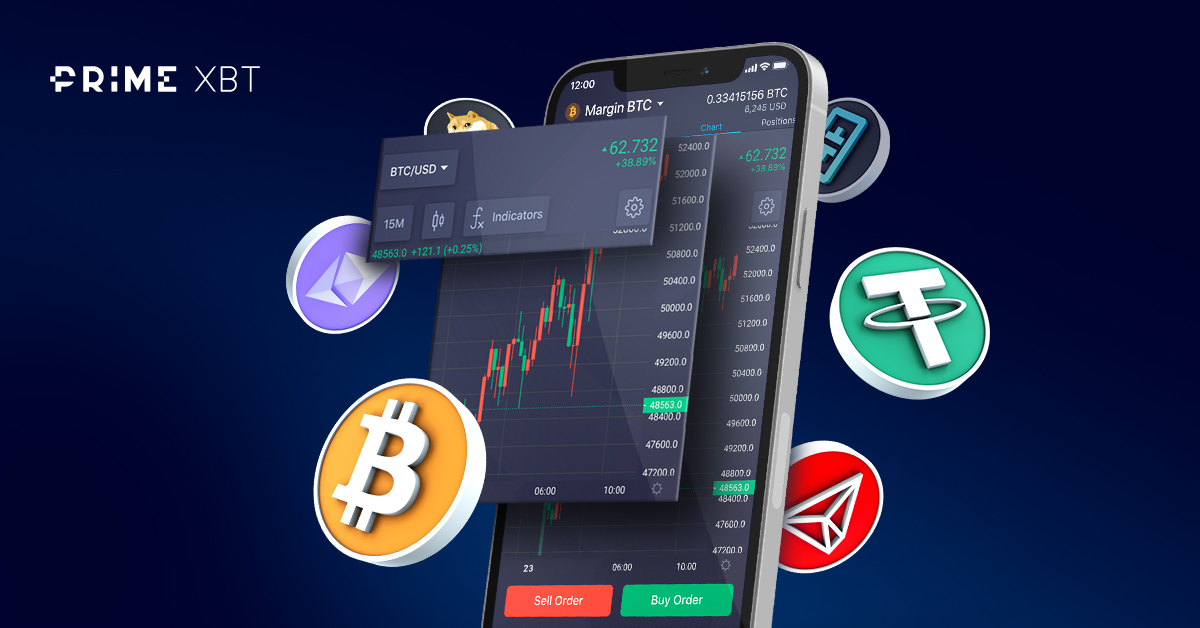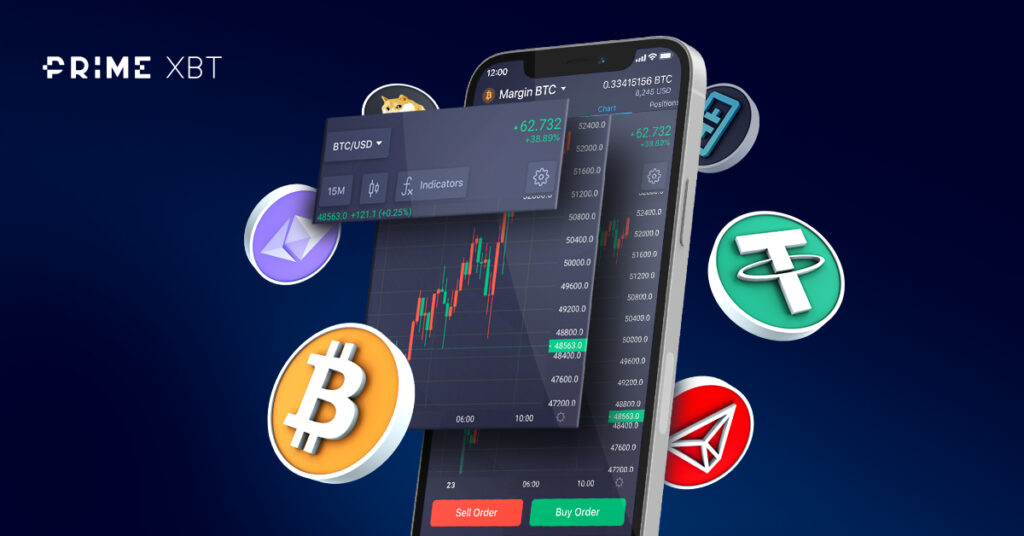 One more trader's demand realized by the PrimeXBT company is the possibility to access trading accounts and open/close positions from a smartphone application. Actually, many technical features of the PrimeXBT app are the same as those of the original web platform. Traders get exposure to the same market, instruments, and types of execution.
The cross-platform nature of the PrimeXBT trading app is a big benefit for this solution and its enthusiasts. This means that the application can be downloaded to either iOS or Android devices. In both cases, the app works without major glitches and crashes. If any issues occur, you can contact the support team 24/7.
PrimeXBT Review From Clients
When reviewing service providers such as the PrimeXBT exchange, it's necessary to pay attention to public opinion. Real clients might reveal some pitfalls that aren't officially displayed or simply weren't noticed by a big group of people.
That's why, at the end of this full PrimeXBT review, we would like to represent some PrimeXBT reviews and testimonials posted on different social networks and review resources. But first, let's take a look at the general comparison table unifying the key statistics of those online testimonials.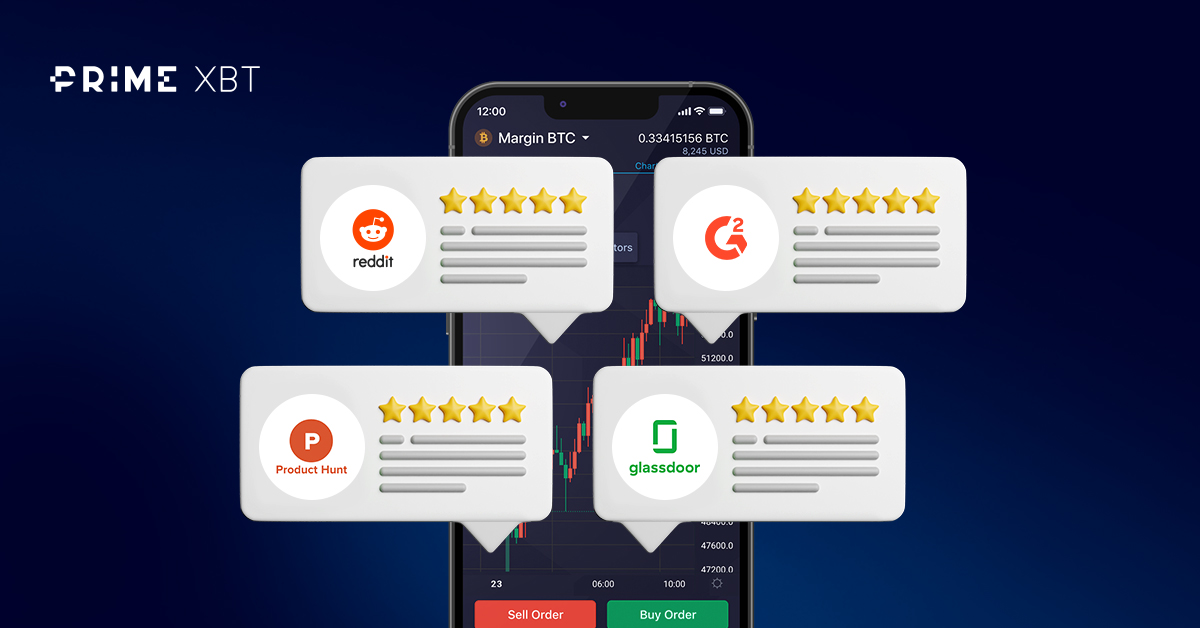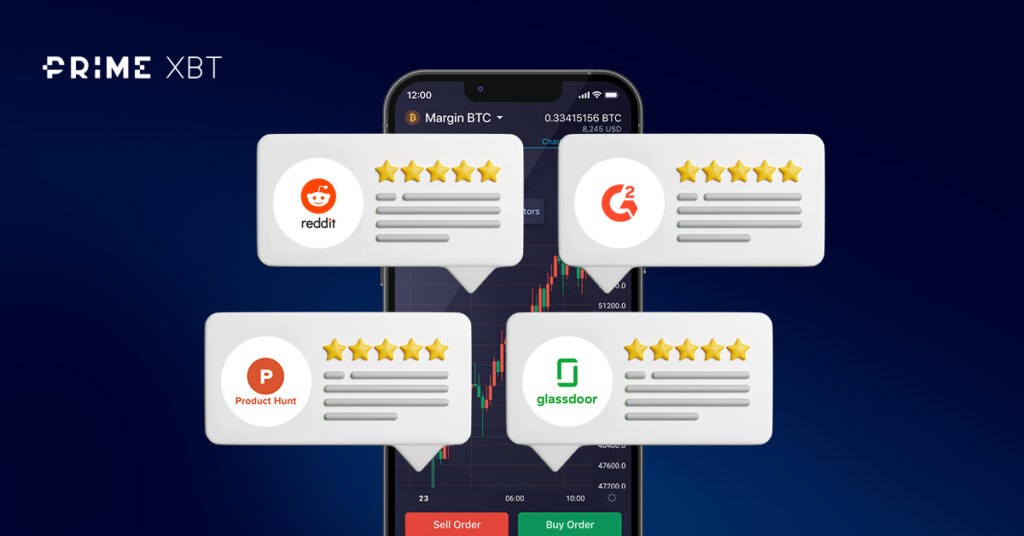 | | | |
| --- | --- | --- |
| Platform | Average Score | Number of Reviews |
| Trustpilot | 3.3 | 4 |
| G2 | 4.3 | 15 |
| Product hunt | 4.5 | 31 |
| Glassdoor | 4.5 | 54 |
PrimeXBT Review Trustpilot
"I have been using them for 3 years now and never encountered any problems. Especially for leveraged trading of Cryptocurrencies, they come with great trading conditions." — Peter on Trustpilot.
This PrimeXBT review on Trustpilot published by a user under the Peter nickname gives 5 stars to the crypto exchange. From this piece, we can see that the client is satisfied because he didn't face any difficulties or inconveniences when working with the platform. We also can see that this user wasn't afraid of high leverage, what's more, he is rather satisfied to have the possibility to use this instrument in the highly volatile cryptocurrency market because of its alluring rewards.
PrimeXBT Review Reddit
Reddit isn't exactly the review platform. It's rather a social network where people from all over the world discuss everything they want — from funny memes on Twitter to global politics. Naturally, trading is quite a popular topic there, and a lot of threads about the PrimeXBT exchange can be found.
The presence of the PrimeXBT platform on Reddit is also a great merit of its team, as the company established its own community. As of the date of writing, more than 20K traders joined this community, and the number is growing every day.
Although Reddit wasn't designed to post reviews about such companies, there are dedicated users who are willing to share their experiences of working with PrimeXBT in detailed reviews.
For instance, a Reddit user under the nickname Desperate-Box6124 wrote the following:
"For users who are just starting to use Prime XBT, the Turbo platform is the most user-friendly. This way, you can basically hold positions in assets for a certain period of time to make a certain profit.
You can take them as "digital" tools, and if the price forecast is correct at the end of the validity period, you will receive a fixed fee. You can go long (goes up) or short (goes down)."
At the same time, there is a pinch of criticism when he mentions that the crypto platform obviously lacks a demo account, which is fairly a good remark about the exchange.
On the whole, PrimeXBT has a good reputation on Reddit. It's quite active there. You can join the community to follow the events and updates of the platform. Besides, the team of the platform has communities for users from different countries, which helps to improve communication between users.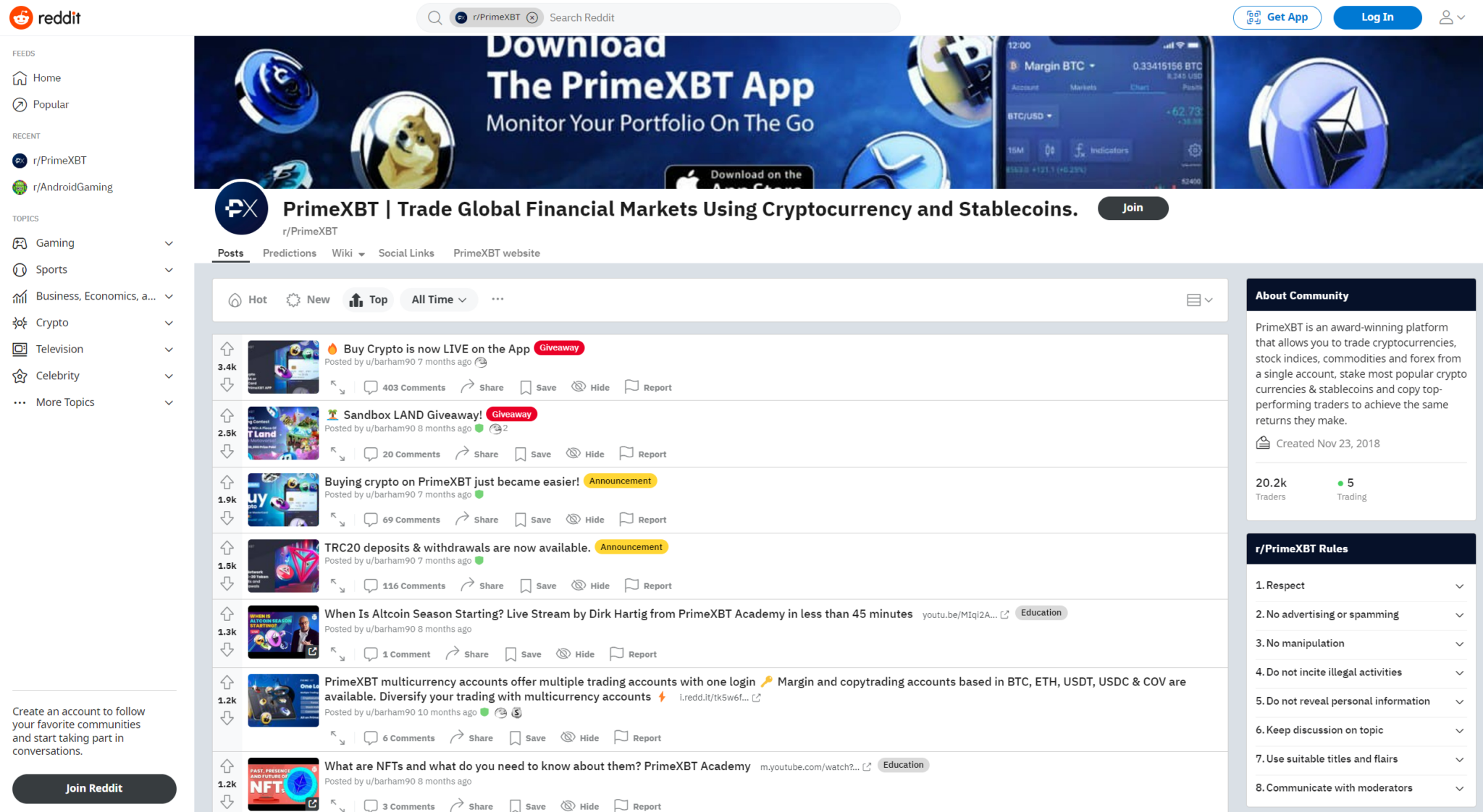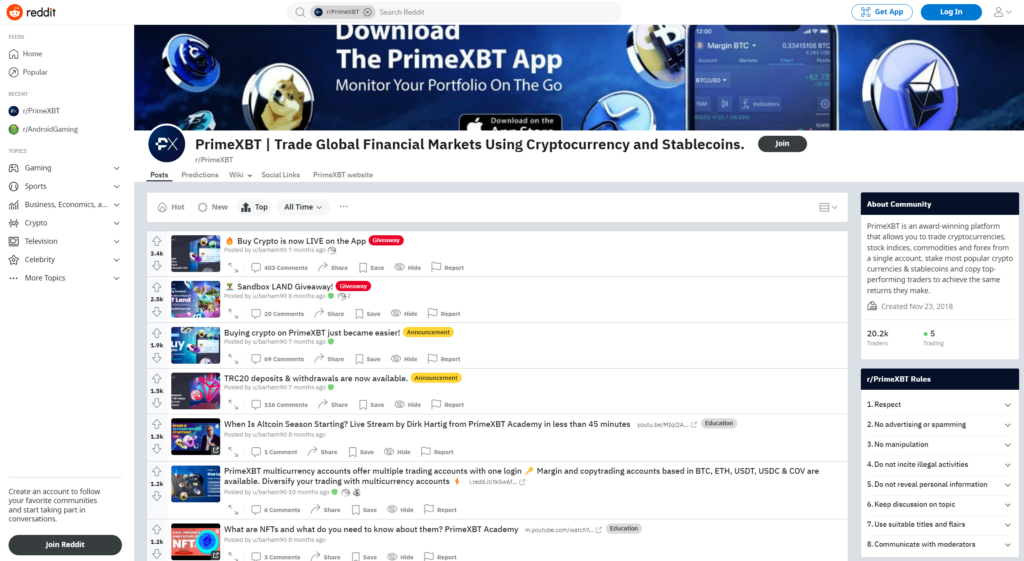 PrimeXBT Review G2
"The PrimeXBT platform introduced me to cryptocurrency trading. This is a very convenient exchange for beginners. I learn a lot in the help center and in academic courses. Sometimes the exchange bugs out, once the stop loss did not work (I have been on the exchange for 3 months). But almost nothing was lost at that moment. This is a good platform to get familiar with cryptocurrency trading and access other markets at the same time. I think it's nice." – Vince B on G2.
"I had no problems using this PrimeXBT and I had to pay really small fees. I tested it by investing in Crypto, switching it to stock, switching it back, and then withdrawing it completely. It works nice. So far, I don't have any problems or dislikes to complain about. Just consider the figures. In just 3 months of trading here, I increased my monthly income by around 15-20%. I suppose it's a great result." — Della L. on G2.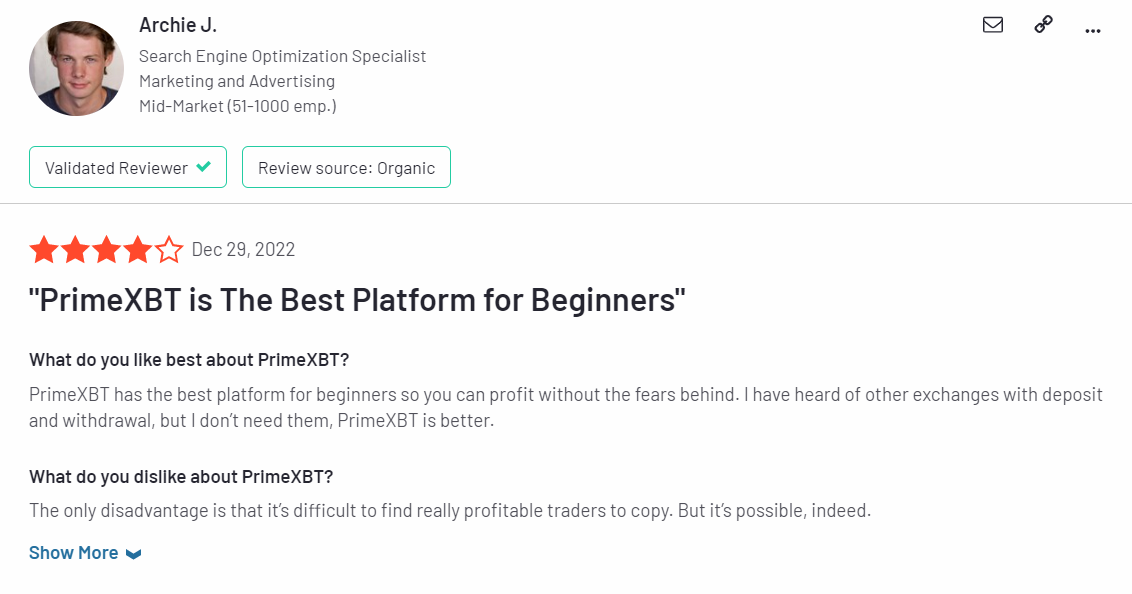 "A good exchange for trading forex pairs and cryptocurrencies. PrimeXBT is always trusted and very professional in its performance. I highly recommend this platform. I started by copying trades and in the beginning, it was complicated to find really good ones so I decided to trade on my own. What problems is PrimeXBT solving and how is that benefiting you? I gained a lot of experience here because this platform has a very advanced help center." — Jaclyn H.
PrimeXBT Product Hunt Review
"I have been thinking about doing crypto trading for a long time and was looking for a smart exchange. My Brother advised me to try PrimeXBT. He himself uses this site and, apart from a few minor flaws, is pleased with it. I initially liked the fact that there are a bunch of articles." — Anthony Andrews.
"This Prime XBT review won't include any specific info because I'm not an expert, just my impression of the platform. What I liked is that the fees are lower than 0.05%, lower than the industry average. Platforms I traded with before offered higher commissions, which increased expenses on trading. Prime xbt is cheaper." — Jonathan Wright.
Both these PrimeXBT were published on Product Hunt. The first user decided that the platform deserved 5 stars because it appeared quite smart compared to many other exchanges. He also liked that there was plenty of information to learn about PrimeXBT before registering.
The second user, however, rated the exchange with four stars. He didn't mention why but specified that he liked trading cryptocurrencies with lower-than-standard fees, which was also mentioned in our review.
PrimeXBT Glassdoor Reviews
We were particularly interested in what employees of the company think about their workplace. That's why we also decided to take a look at some testimonials posted on the Glassdoor review platform.
"Pros: Working for PrimeXBT is actually very valuable knowledge. According to the conditions, everything is in order here – wages are always on time, without delays. If you show a better performance, you get attractive perks. Efficient training, professional team, friendly environment
Advice to Management: No"
***
"Pros: great friendly environment inside the staff
Cons: poor bonuses, workflow
Advice to Management: I'm working at PrimeXBT as a specialist in the international marketing department. I'm responsible for PR of the company. I guess I go on well cause I see that the emplyer appreciates me. I like my team, I fancy the attitude of higher-ranked managers. That's all nice but I would like to get more generous bonuses for overperforimng. Hope, this will get better soon. So far, I have no complaints."
As we see from the second review, which ranked PrimeXBT at 4 stars as an employer, if some workers aren't satisfied with something, this is probably related to the workflow and workload. This means that the trading platform has to deal with big traded volumes. This is caused by the growing popularity. At the same time, we found some employee reviews indicating that the company is working on its working culture policy to make sure employees will be able to perform their tasks. As we see, 150 specialists aren't enough to handle the challenges of the growing company.
Conclusion
No matter if you are a professional crypto trader or investor or just a beginner, you should pay a lot of attention to the company's performance before you create a real trading account and replenish it with real funds. So far, PrimeXBT hasn't spoiled its reputation in the market among crypto investors.
At the same time, we cannot deny the obvious disadvantages of this trading platform:
high leverage that cannot be adjusted;

lack of payment methods – only cryptocurrencies are accepted;

strict requirements for withdrawal requests;

lack of free indicators on the web trading platform.
Nevertheless, we found more advantages than downsides. This motivates us to conclude that PrimeXBT is a legit crypto trading platform with exposure to multiple markets.