Bitcoin price prediction for 2023, 2025, 2030: When Bitcoin grow up again?
Posted On March 9, 2023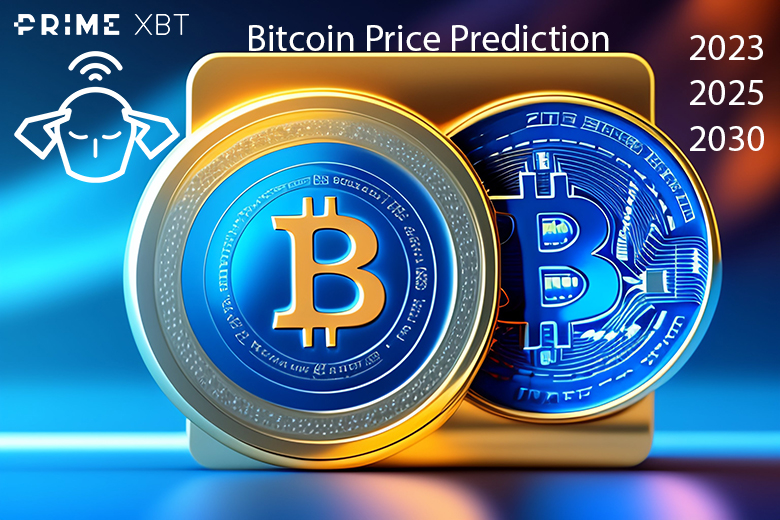 When we speak about investing in digital coins, BTC is the first asset that will come to your mind whether you are a professional investor or just a beginner exploring this niche. Indeed, Bitcoin is the most famous and biggest digital asset to ever exist. However, its performance isn't always satisfactory for its holders, so it might take some time to figure out whether this asset is still worth investing in at a certain period point.
In this article, we will try to reveal all our thoughts regarding Bitcoin price projects. We will try to analyze its current performance and predict what fundamentals it can lead to in the nearest future. Bear in mind that this isn't an insight but just a single opinion on how the asset might respond to different events in the market. Let's get down to business!
What will Bitcoin be worth in 2023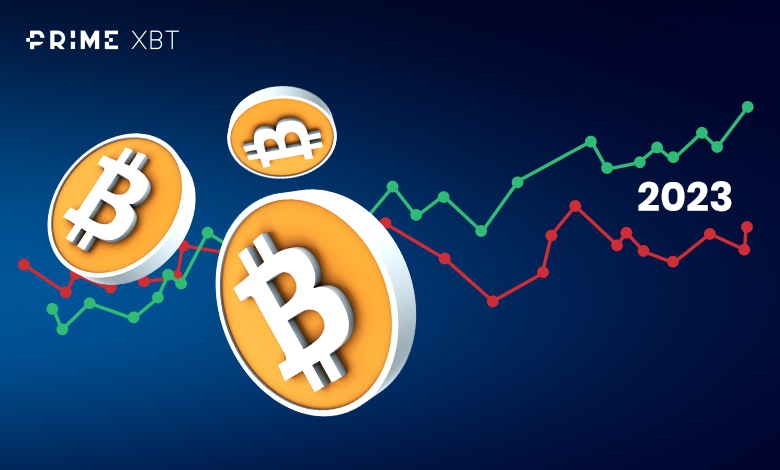 As for the date of writing, the BTC price is around $23,250, with a market capitalization exceeding $449 billion. To compare, a year ago this asset was valued at around $40,000. As you see from these figures, the fall was quite significant. To be more specific, virtual gold lost around 64% in value in 2022.
This wasn't the issue for Bitcoin only. The entire market suffered a steep downfall, which resulted in the collapse of several projects that were previously considered quite promising and ambitious. We can specify three key reasons why this happened:
A stricter policy of the Federal Reserves;

The collapse of FTX, which handled crypto transactions worth millions of dollars;

The increasing concern of users regarding scamming nature of crypto projects.
So, considering the run in 2022, what can we expect from the performance in 2023?
Will Bitcoin Recover Again?
Bitcoin has already experienced successful rallies during which it managed to recover from the previous fall. Can it happen again in 2023? Well, whilst we cannot dwell on it exactly, we have some suggestions that prove this consideration:
The Federal Reserve is carrying out a less-strict financial policy in 2023. Overall economic stability, can increase buying pressure in the crypto market and eventually result in the growing demand for BTC.

BTC whales are accumulating their holdings right now. This is a positive tendency for other investors as it means that whales aren't going to sell it and won't cause the falling trajectory of the coin price.

In 2024 Bitcoin will go through a halving. This is a special mechanism designed to increase BTC scarcity and drive its price higher. Since the date when the first halving took place, it always worked. The expected price growth might motivate many investors to buy BTC in 2023, which will increase its value this year due to the growing demand.
Will Bitcoin Crash Again in 2023?
Considering the above-listed reasons, we are more likely to believe that the Bitcoin price prediction for 2023 is positive. However, in such a volatile market, skeptical opinions should be also considered. According to such suggestions, BTC might lose a significant portion of its value due to a tighter policy of the Federal Reserve. If this is true and the institution will have to impose not very favorable interest rates, people will be unwilling to store their funds in digital assets, which might lead to another crash of the whole market.
On the whole, you should consider the reasons provided by both parties but we believe that there are more positive circumstances than negative ones in 2023. That's why we expect the biggest virtual asset to rise up to $30,000 by the end of the year.
Bitcoin price prediction for 2025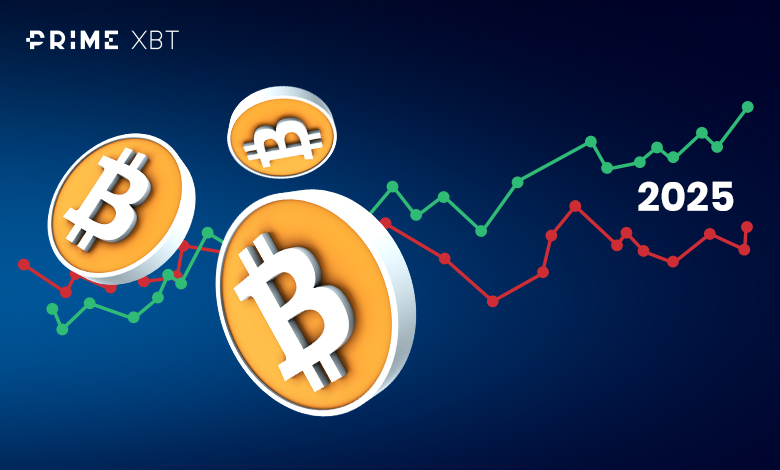 Making predictions on the crypto price is a complicated task for there are too many factors that can drive the price both up and down. Nevertheless, making such BTC forecasts might be useful for those who want to analyze potential events that might lead to either favorable or non-favorable changes in the value.
If we talk about 2025, we need to consider that this will be the year after the Bitcoin halving. That's why the coin value is expected to be driven higher due to the increased scarcity after the halving process. The further adoption of the virtual asset across other industries might also lead to a bigger buying pressure, resulting in Bitcoin beating its all-time high price and reaching around $70,000.
Bitcoin Price Forecast for 2030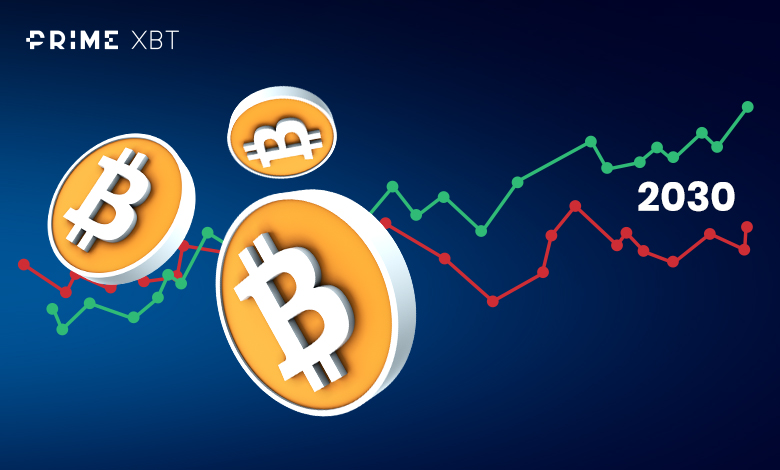 The majority of experts believe that the following decade will become a global success for the crypto market. They suggest that this is supposed to happen due to the wider integration of crypto technologies into different industries such as logistics, retail, healthcare, gaming, education, and others.
Successful adoption of digital currencies and their integration into the lives of people can cause a massive spike. Obviously, the biggest surge is expected from the best-performing cryptocurrency, which is Bitcoin.
Experts are skeptical about making price forecasts for such a long-term perspective, but many technical analyses suggest that in 2030 Bitcoin will be no lower than $300,000 and might even break through the mark of $500,000!
BTC Price historical changes
In this comparison table, we display the maximum prices of BTC each year. For future years, the prices are what we expect this asset to perform in the following decade:
| | |
| --- | --- |
| Year | Price |
| 2010 | $0.40 |
| 2011 | $30 |
| 2012 | $12.56 |
| 2013 | $1,127.45 |
| 2014 | $378.64 |
| 2015 | $850 |
| 2016 | $963.74 |
| 2017 | $19,475 |
| 2018 | $11,497 |
| 2019 | $12,284 |
| 2020 | $11,964 |
| 2021 | $65,000 |
| 2022 | $47,456 |
| 2023 | $30,000 |
| 2024 | $58,000 |
| 2025 | $70,000 |
| 2026 | $118,495.17 |
| 2027 | $173,000 |
| 2028 | $247,000 |
| 2029 | $345,000 |
| 2030 | $436,000 |
Pros and cons of Bitcoin
As any investment asset, BTC has its advantages and disadvantages. Here are some of them.
✅Pros:
If Bitcoin is on the bull run it can bring significant returns that will cover the previous losses.

Bitcoin is a very popular instrument to decrease the influence of inflation and other crises driven by general economic circumstances.

Bitcoin is the most reliable and popular cryptocurrency that is widely accepted by businesses across all industries all over the world as a payment method.
❌ Cons:
Extreme volatility of the virtual currency can lead to both impressive returns and significant losses, depending on the price trajectory.

BTC and all cryptocurrencies in general face problems with the regulations imposed by governmental financial institutions.

Generally, Bitcoin is secure and decentralized but risks related to its digital nature should never be ignored completely.
Conclusion
On the whole, if you consider storing some of your funds in cryptocurrency, BTC might turn out to be the best option. It's not only promising good returns in the future but also offers reliability and security of data and fund storage. That's why we suggest you consider this virtual asset during a period of general economic uncertainty. But never neglect risk management and never store all your fund in cryptocurrency. Allocate a small portion of your investment to digital products
F.A.Q.
Should I still invest in Bitcoin?
It's a good idea to store a fraction of your funds in Bitcoin. But you need to find a reliable platform where you can buy the asset. PrimeXBT is a good choice. Except for BTC, you can buy other virtual assets and always count on professional assistance from specialists.
Can Bitcoins be lost forever?
Bitcoins you buy are transferred to your digital wallet. Your holdings can be lost forever if lose a key or get your wallet violated by fraud. That's why it's necessary to work with safe trading platforms.
What year will Bitcoin end?
Bitcoins are received through the mining process so we can say that Bitcoins might end when the mining resources get exhausted. This is expected to happen no sooner than in 2140.
How many Bitcoin are left?
The supply of BTC is limited to 21 million coins. As of the date of writing, 19,302,512 bitcoins are in circulation.